HOME

ARTICLES

VIDEO
TESTIMONIES
DONATE
LINKS
CONTACT
TRACTS
Romans chapter 3:28
"Therefore we conclude that a man is justified by faith apart from the deeds of the law."
---
Ephesians 2:8-9:
"For by grace you have been saved through faith, and that NOT OF YOURSELVES; it is the GIFT OF GOD, NOT OF WORKS lest any man should boast."
---
John 5:24 "Most assuredly, I say to you, he who hears My word and BELIEVES IN HIM WHO SENT ME HAS EVERLASTING LIFE, AND SHALL NOT COME INTO JUDGMENT, BUT HAS PASSED from death into LIFE".
---
John 3:16;18: "For God so loved the world that He gave His only begotten son, that WHOEVER BELIEVES IN HIM SHOULD NOT PERISH, BUT HAVE EVERLASTING LIFE"
"He WHO BELIEVES IN HIM IS NOT CONDEMNED;"
---
John 3:36 "He who believes in the son HAS EVERLASTING LIFE."
A brief history on The Northern Lighthouse
The Northern Lighthouse started out as an Windows Excalibur based computer bulletin board service back in 1995, shortly after I left the Mormon religion.
After leaving Mormonism, I had a strong desire to share my faith in Jesus Christ, and to let Mormons know about the deception they are under, with the hopeful aim of liberating at least a few of them from its bondage. I started a one man outreach ministry to Mormons in my area, and the bbs was part of that outreach. Back then, I was calling it Northern Lighthouse Ministry. The inspiration for the name was Utah Lighthouse Ministry.
I thought the name sounded good, and felt it was appropriate, as a lighthouse is a beacon for guiding ships, and I wanted to shine a light to help guide Mormons to see the truth, and escape from Mormonism. I hold Jerald and Sandra Tanner of Utah Lighthouse Ministry partly responsible for me leaving Mormonism, as it was after reading their book, ' Major Problems of Mormonism', that I firmly renounced Mormonism.
As things turned out, when I started The Northern Lighthouse bbs, the world wide web was just coming into its own, and was catching on fast. With the advent of easy access to the internet, computer bulletin boards have become much less popular than they once were. I personally have not bothered to access one in the past several years, but my experience as a bbs sysop in the mid to late '90s was that people were rapidly abandoning bulletin boards for the internet.
As a result of what I perceived as a general shift of interest from bulletin boards to the internet, I shut down my bbs after about two years, as it was very rarely accessed at that point, and I couldn't see the point of maintaining it any longer.
It's too bad, in a sense, as the Excalibur software really had a lot of functionality, and was showing a lot of promise.
Here is a snapshot of my dearly departed bulletin board.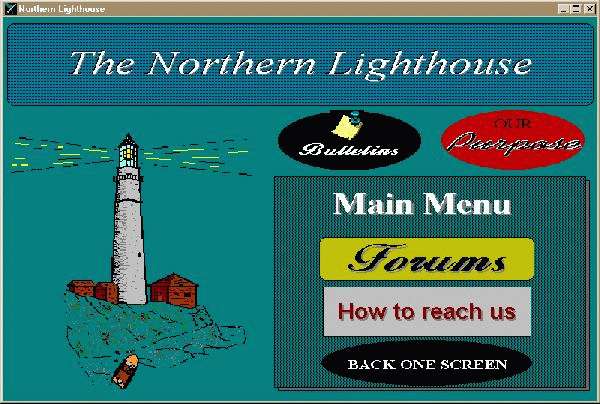 The lighthouse that you see on the top, right hand corner of this web site is taken directly from the artwork of the old Northern Lighthouse bbs. My wife actually found this lighthouse picture in an old Webster's dictionary, so we based it on that.
In late April of 2002 (about three weeks ago, at the time of this writing), while busy at one of my many pursuits, the thought popped into my head that maybe I should register the domain name 'northernlighthouse'. Then I thought, "Naw. That one would have been taken years ago. There's no way that it would be available for me to register! Good names like that have long since all been taken."
Well, as it turned out, the name 'northernlighthouse.org' was not taken. I still find it a bit surprising. Perhaps God wanted me to have this one. Who knows?
So I decided that I would make a website that followed the same general idea that I had with the bbs. And the result is this far from complete web site.